Nursery Room Floor Play Mat using SoftTiles Flower Mats in Pink, Lime, and White- D106
Decorating a girl's nursery room floor is easy using SoftTiles 2x2 Flower Mats. Die-cut Flower mats in the three color combo of pink, lime, and white are surrounded by a single row of pink SoftTiles 2x2 and white sloped borders. The sloped borders on this baby floor mat help prevent tripping by being a smooth transition from the mat to the floor. When your baby begins to crawl, this padded flooring for babies will be the ideal place to start!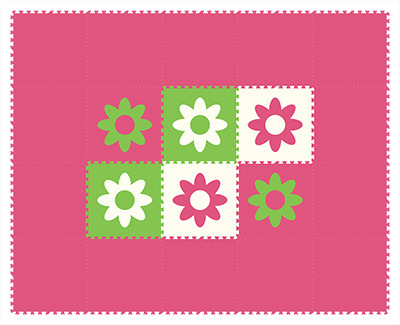 This mat is 8.5' x 10.5' and costs $194.60. Purchase this mat as is or modify it to fit your playroom or nursery in our Mat Builder.
More Information and Purchasing Info