Stylish Children's Playroom Floor using solid SoftTiles Brown, Red, and White Foam Mats- D109
Here's a sophisticated children's playroom floor that uses SoftTiles 2x2 baby floor tiles in Brown, Red, and White. This foam play mat uses our specially designed sloped borders in brown to create a smooth transition to the hardwood floor. This cushioned play room floor helps protect your child when they start learning to walk and continues to be useful as a defined playspace for the years thereafter.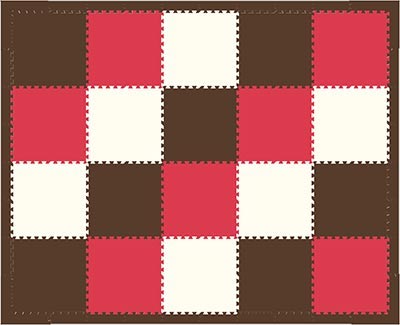 This playroom foam floor mat is 8.6' x 10.5' and costs $173.00. Because there are no die-cut pieces, this set is available to ship immediately. Purchase this mat as is or modify it for your playroom in our Mat Builder.
More Information and Purchasing Info