Nursery/Playroom using SoftTiles Die-Cut Circles in Blue, Lime, and White- D119
Nursery/Kids Playroom using custom SoftTiles Die-Cut Circles in Blue, Lime, White. This is a very fresh and fun color scheme for a baby boy's playmat. We often use SoftTiles in lime instead of green to create a more vibrant look for a play mat, because it adds a bit more pop. This play mat for babies mixes SoftTiles Die-Cut Circles with solid SoftTiles 2x2 Foam Mats. These nursery foam floor tiles are finished with sloped edge borders in blue that help prevent tripping when entering and leaving the mat. SoftTiles are great foam mats for kids, and are great foam floor tiles to use in your nursery!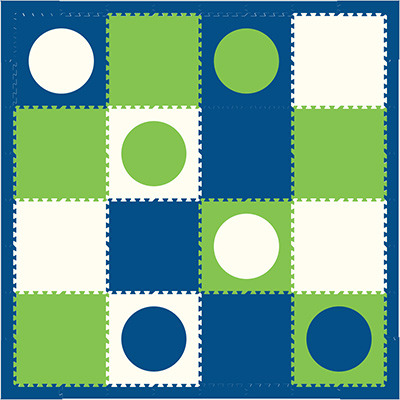 This circles play mat is 8.5' x 8.5' and costs $164.00. Purchase this mat as is by adding it to your cart or modify it in our Mat Builder for your space.
More Information and Purchasing Info