Kids' Playroom with Safari Animals Foam Mats in Blue, Gray, and White- D127
This fun baby foam floor mat uses a custom set of our Safari Animals Play Mats in blue, gray, and white and our solid color SoftTiles 2x2 Foam Mats. The Safari Animals playroom foam mats are used as accent pieces with most of the pieces being solid color SoftTiles. This helps keep your play mat from looking too busy and helps keep costs low. This custom baby floor mat also only uses three of the four Safari Animals Mats that we offer, Elephants, Lions, and Giraffes. You can choose which animal foam mats you would like to include. Thanks to Tiffany for sending us a picture of her baby foam floor mat.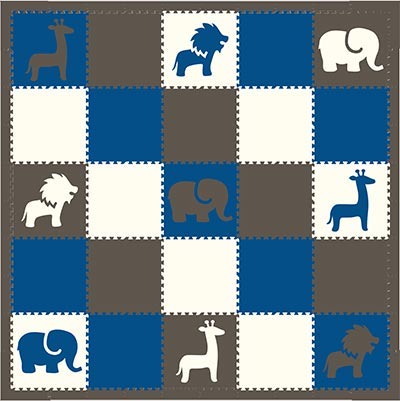 This Children's Play Mat is a large 10.5' x 10.5' with sloped borders. The costs is $242.40. You can purchase this mat as is by adding it to your cart or modify it for your playroom in our Mat Builder. If you need assistance, please contact us at 888-477-6532.
More Information and Purchasing Info