Safari Animal Play Mat Children's Foam Tiles in Black, Gray, White, Yellow- D128
This sharp looking safari animal play mat provides a soft cushioned play area for babies. This children's play mat has a pattern that uses a custom set of Gray and White Safari Animals with solid Black and Yellow SoftTiles 2x2 Interlocking Foam Mats. In this room, the SoftTiles safari animal play mat turns a hard tile floor into a soft play area.
"Our Softtiles came in last night and we are already in love!!! It is perfect for our home since the main living area is all tile. I love it because I wanted something fun for his play area but also stylish because it is located in the center of our home. The fact that we could customize the play tiles was perfect for fitting it in with our decor. We have also learned quickly that they are easy to clean. With two large dogs and a six month old that is a plus. Thank you for such a great product!"- The Norris Family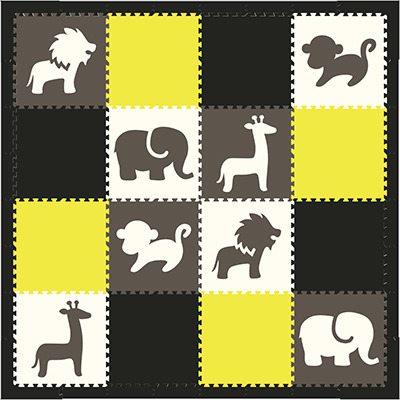 This children's play mat measures 8.5' x 8.5' and costs $171.20
One of the unique things about SoftTiles is the ability for customers to fully customize their foam play mat tiles with the die-cut shapes and colors of their choosing, add personalization, etc. Use our online Mat Builder to easily modify any design you see on our site, resize the children's foam tiles to fit your space, etc. Once you're ready to buy, it will drop the mats from your finished design directly into a shopping cart for checkout.
It takes 2 to 3 weeks for us to process a custom design order. Off the shelf items are available to ship immediately for customers needing a mat sooner.
If you need help, please email us or call us at 888-477-6532 or 513-860-2711, and our free design consultants can help you with your kids soft floor tile design.
More Information and Purchasing Info