SoftTiles Die-Cut Circle Foam Mats Designer Lime and Green Play Mat- D133
Here is a fun Soft Tiles play mat for kids that is also one that you can appreciate as an adult. This Soft Tiles play mat uses a custom set of SoftTiles Die-Cut Circles Foam Mats. To make this play mat a total of 8 Circle mats were created, the four you see here and the reverse (3 brown mats with white circles, 1 orange mat with a white circle). The other circle mats were used in another area. The mat is finished off with our brown SoftTiles sloped borders. The brown borders makes a nice design contrast with the lime and green tiles while making the mat safer by preventing tripping.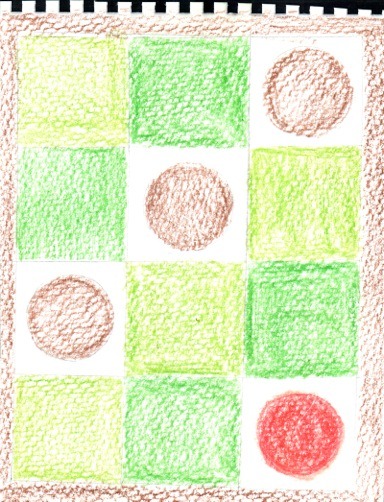 This Soft Tiles play mat started as an idea that our customer Eric sketched above. We were able to take his idea and turn it into this wonderful play mat with our foam tiles for babies! If you have a beginning of a design or you need help with your playroom, please contact us at 888-477-6532 and we can assist you. You can also use the Mat Builder feature on our website to visualize your idea using our play mat tiles. Once you finalize a design, it will drop all the elements into a shopping cart, and you're ready to go.
"Many thanks for taking time to verify all of the correct tiles/die-cuts that would be required to make our sketch turn out the way we envisioned" - Eric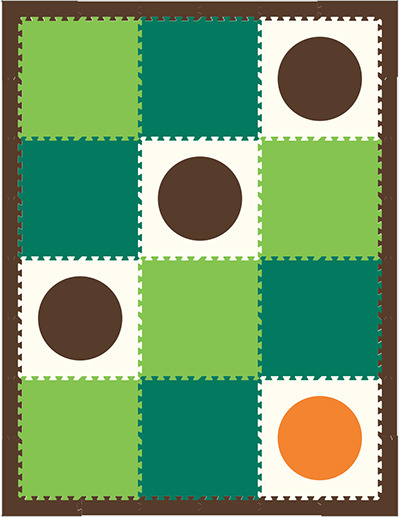 This baby play mat is 6.5' x 8.5 and costs $166.20. This mat as designed also includes 4 reverse circle pieces that are not in the mat that are shown below We have to make the reverses when making this play mat and you'll receive them in your order. In the Mat Builder these reverse pieces are called "Unused Mats". To optimize your mat for cost, include all the unused pieces into your mat design.
More Information and Purchasing Info