SoftTiles Create a Temporary Cushioned Deck Kids Play Area- D135
With Spring finally here, it's time to start creating those outdoor play mats for your kid's play area. Here is a kids play mat on a wooden deck at a summer cabin. Wood decks are notorious for splinters as they get older. Make them safer for your kids with SoftTiles Interlocking Foam Mats. Whether you have a wooden deck or a brick patio, SoftTiles can be used to create a soft cushioned play mat outside for your kids and babies to crawl and roll around on.
SoftTiles are best used as temporary outdoor kids mats because the sun will break down the plastic foam over time if left outside permanently, shortening the life of your foam tiles. Assemble the mats in a few minutes if you're spending the evening out on your deck or patio. SoftTiles are waterproof and easy to clean- you can just hose them off if they get dirty.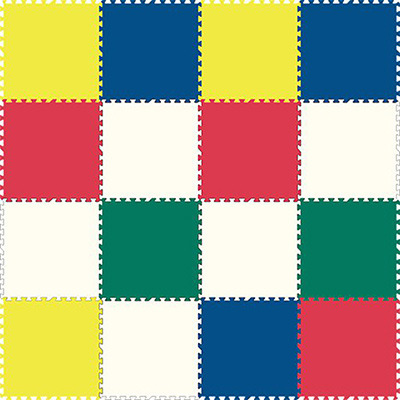 This mat is 8'x 8' without sloped borders. If you're using this mat outside, it's probably better that you don't use the borders because it is more pieces to deal. Purchase this mat as is or modify the design in our Mat Builder.
More Information and Purchasing Info