Baby Foam Play Mats | Custom Designed Playroom Floor with SoftTiles Animals- D170
"We absolutely love your product! The large tiles make it easier to cover space and the thickness provide the perfect padding protection. We're so excited to watch our son, Noah, grow and learn on these tiles. They're great for crawling & walking. We'll also be able to teach him about animals and their sounds by using the tiles as examples. We're happy that our good friends recommend your tiles & we'll be back to order more!"- Anthonica
SoftTiles make it easy for you to create the perfect custom foam playmats for babies. Anthonica built this play mat using our interactive SoftTiles mat builder and chose four of our Safari Animals and the turtle from our Sea Animals collection in black, gray, white, and green with a green sloped border.
You can mix and match from any of our die-cut shapes using our Mat Builder or have one of our designers customize a floor for you.
This baby foam play mat as designed costs $155.00. SoftTiles are a premium quality foam mat that is thicker and has better designs than any other. You will not find a better baby foam play mat in the market. Lower cost mats can be created by using fewer animal die-cuts and more solid colors. Try creating foam playmats for babies in our mat builder or call us at 888-477-6532 and we can help you design your own mat.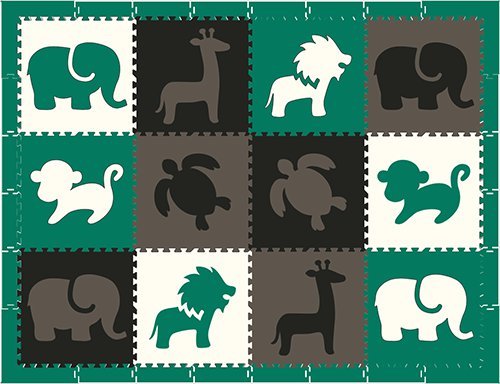 This baby foam play mat as designed is 6'5 x 8.5' and costs $155.00. SoftTiles are a premium quality foam mat that is thicker and has better designs than any other. You will not find a better baby foam play mat in the market. Lower cost mats can be created by using fewer animal die-cuts and more solid colors. Try creating foam playmats for babies in our mat builder or call us at 888-477-6532 and we can help you design your own mat
More Information and Purchasing Info