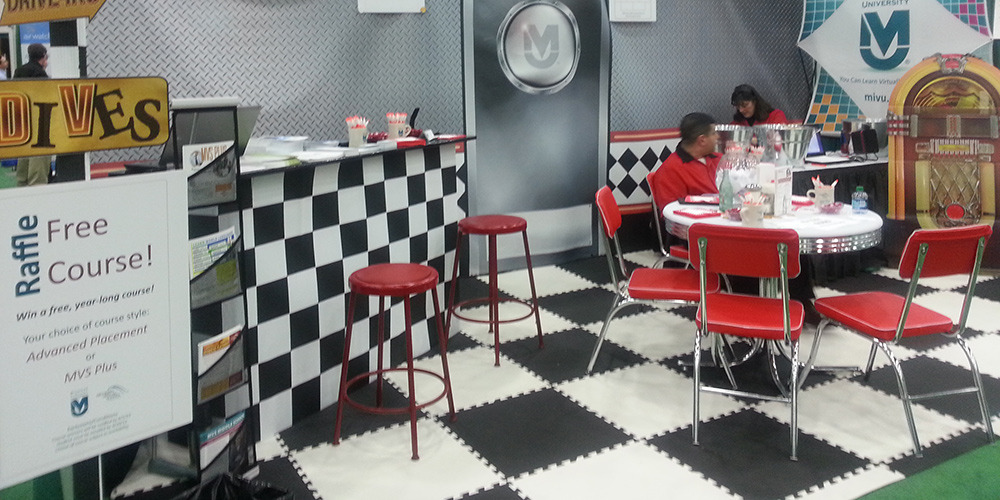 SoftTiles Foam Mats are ideal for Trade Show Flooring because they are:
Comfortable- Puzzle floor mat is made of a dense EVA foam, easy on your feet for hours of standing. It's anti-fatigue for your feet!
Portable- Puzzle floor mat is lightweight and easy to ship. Each case of 25 weighs only 36 pounds.
Easy to Use- Quick and easy to assemble and disassemble. You can assemble a 10x10 in less than 15 minutes.
Cost Effective- Save over expensive carpet rentals!
Modular- Area can easily be expanded as your booth grows. 
For trade show flooring we recommend: SoftTiles 2x2 mats 5/8 inch thick. Foam puzzle mats come in a wide range of colors to meet your booth design needs. Choose or mix from our 12 options for color mats, or consider our SoftTiles Wood-grain foam mats, if you prefer a hardwood look.

Border edges: We recommend you finish your trade show mats with our sloped border edges on any side of the booth that customers will be entering into your booth. Usually, that is any side on an aisle. Adding the border does extend the mat past the 10x10 area, however this is not a problem at trade shows, since there is usually a gap between your booth and the aisle carpet anyways.
Standard booth configurations using 2x2 foam mats for trade show flooring
10'x10' booth- 25 mats
10'x20' booth- 50 mats
10'x30' booth- 75 mats
20'x20' booth- 100 mats
Trade Show Flooring Ideas
Design Trade Show flooring with these SoftTiles Interlocking Foam Mats

Our most versatile and
popular mat. Available in 1 foot and 2 foot sizes.
SoftTiles 2x2 $6.40/Mat
SoftTiles 1x1 $1.60/Mat

Have the cushioning of foam mats, but the look of wood!
Wood Mats $9.00/Mat

Carry up to 25 SoftTiles 2x2 in this soft sided carrying bag.
Carrying Bag $32.50/Bag