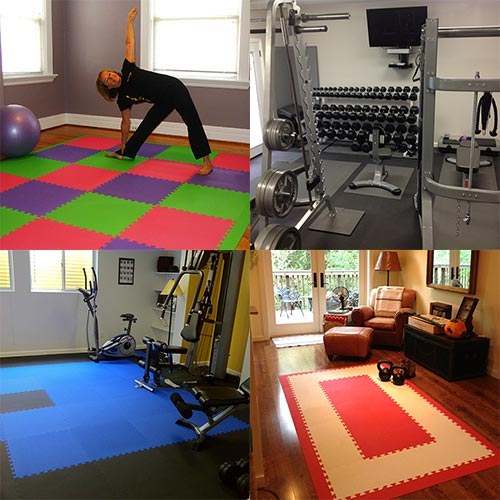 SoftTiles Interlocking Foam Mats provide a cushioned surface for home gyms, yoga rooms, P90X and more! Create flooring for your workout room to place directly on concrete or wood floors. Use SoftTiles to turn any room, garage, or basement into a home gym with a cushioned workout floor. SoftTiles Gym Floor Mats are quick to put down and easy to clean. SoftTiles are non-toxic and have been tested to be formamide free. NOTE: Heavy equipment and weight benches can leave a permanent indentation on your workout floor mats. Design your workout room flooring today!
SoftTiles 5/8 Inch Thick 2x2
SoftTiles 2x2 Foam Mats are our general purpose mat. The 5/8" thickness is good for home gym flooring and light aerobic rooms. Perfect for yoga and other stretching exercises.
SoftTiles OUTLET- SAVE!
Looking for a cheaper mat? SoftTiles Outlet Mats are brand new mats with some surface blemishes. If you're exercising on them, after a few uses, you won't notice the difference. Still as soft and as durable as our normal mats. Perfect for fitness room flooring!