Designer Playroom Floor using Orange and White SoftTiles Interlocking Foam Mats- D101
Children's playrooms or interlocking foam floor mats don't have to be limited to the typical children's primary colors like red, blue, green, and yellow. This inviting kids' playroom is created using our orange and white interlocking foam floor mats, which work wonderfully with the light blue walls and coordinate with the fun accent décor. SoftTiles foam mats for kids help tie together this playroom's decor and at the same time creates a comfortable childrens play space.

Think of the floor as an essential part of your room's design right from the beginning, and you can see how the foam mat for kids adds pop to the entire feel of a room.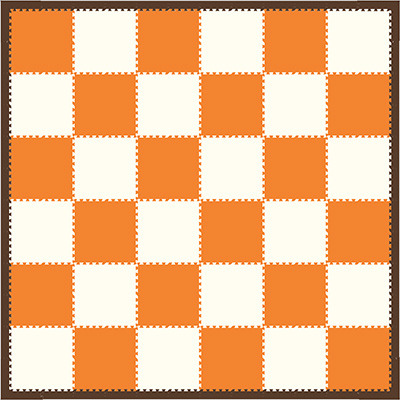 This children's play mat is 12.5' x 12.5' and costs $290.40. Purchase this mat as is or size it in our Mat Builder for your playroom. If you need help, please contact us and we can design a mat for you.
More Information and Purchasing Info