SoftTiles Primary Color Dinosaur Kids Play Mat with custom name mats- D154
If you have hardwood floors and want to have a children's play area, SoftTiles foam mats can turn your room into a fun and cushioned playroom for kids such as this dinosaur play mat.
This is Zack and his SoftTiles Dinosaur play mat. His personalized play mat is made of one set of SoftTiles Primary Color Dinosaur set (8 Tiles), four custom one foot alphabet letters (ZACK), and SoftTiles sloped borders to go around the edge. SoftTiles create the perfect space for kids to crawl and roll around such as this dinosaur play mat.
"The tiles are so cute & functional, Zack loves his new play area!"- Rina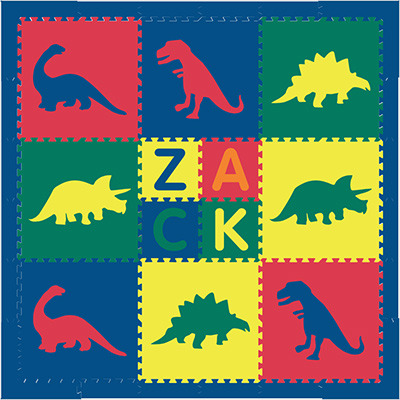 This mat is 6.5' x 6.5' and costs $134.00. Add this to your cart if your child is named Zack. Otherwise, modify this mat in our Mat Builder. If your child's name doesn't fit into the space and you need help creating a larger mat, please contact us at 888-477-6532.
More Information and Purchasing Info