Sea Animals Children's Playroom Flooring- Soft Play Mats for Kids- D171
"The playroom is still a work in progress but here's how the tiles came out. We absolutely love them."- Melinda
SoftTiles provide a colorful and fun cushioned surface for this sunroom turned children's playroom. SoftTiles can add color to transform any room into a beautiful playroom while creating a softer and safer playroom floor.
This playroom uses our Sea Animals Die-Cut Foam Mats and solid color SoftTiles 2x2 puzzle floor mats. This room is wall to wall so mats that at edge are cut to fit the room. Cutting foam mats can be done with a utility knife and a metal straight edge. 
We can help design your puzzle floor mat as a free service or you can build your own floor with our interactive mat builder. We also offer pre-made play mat sets that make perfect gifts.
Customize a version of this puzzle floor mat in our mat builder. This sample mat measures 12.5 feet x 12.5 feet. You can change size of the mats, colors, etc. If you like this puzzle foam play mat as is, click "Add Mat to Cart" and this exact mat will be sent over to checkout.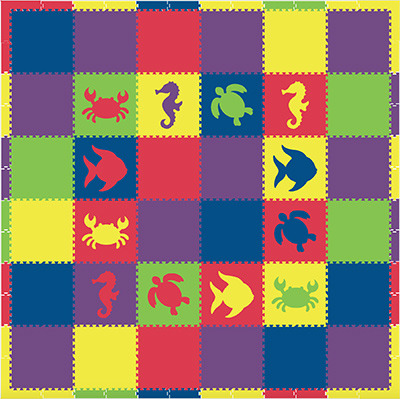 More Information and Purchasing Info