Eye-catching Personalized Playroom- Black, Light Gray, White D196
November 13, 2017 12:10 / 0 comments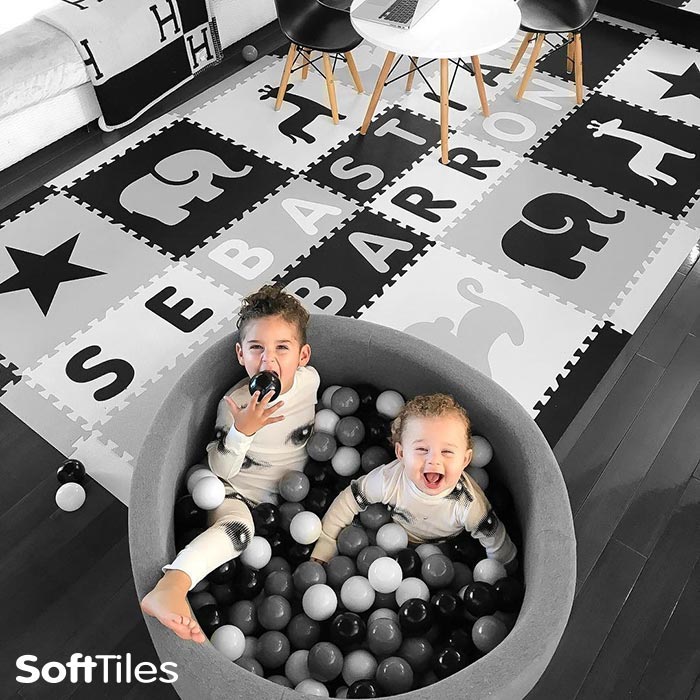 Check out how fun this personalized playroom floor mat by @estheandsasha turned out! This beautifully designed children's floor mat incorporates a mix of die-cut Safari Animals and Stars in the neutral colors of black, light gray, and white. The mat is personalized with the boys' names, Sebastian and Barron, done in blocks of 2 letters to complement the overall design scheme. Beyond the eye-catching design, the personalization element puts this over the top as a mat that is very special, made just for them, and is certain to be something your kids will absolutely love.
SoftTiles are great for transforming a contemporary living space with a hardwood floor into an area that is soft, safe, kid-friendly, and fun without compromising your adult sense of style and design. With the many neutral color options available at SoftTiles, you have the means to create a stunning playroom floor that clearly is fun for the kids, while allowing your room to still maintain a sense of being living space for the adults as well. The floor mats are simple to assemble with its interlocking edges, so the transformation of this space is both easy and non-permanent, making it the perfect solution for covering your existing hardwood floor and preventing the bumps and falls encountered during those early childhood years.
The beauty of the SoftTiles mat is you have the ability to completely customize your playroom floor mat, choosing the exact die-cut shapes and color scheme, add personalization, etc. This ability to customize your design to get exactly what you want is a service unique to SoftTiles. You can easily build your mat starting from one of the many idea templates on the SoftTiles website or by using the website's MatBuilder app to create your floor mat design from scratch. The friendly design staff at SoftTiles is also available to assist with putting together your design.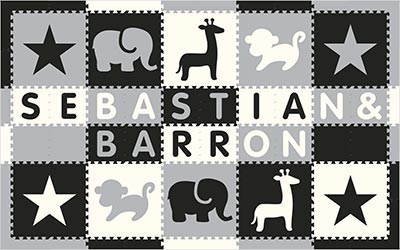 This Personalized Play Mat measures 6.5' x 10.5' and costs $242.40. Modify this play mat for your playroom in our interactive Mat Builder.
More Information and Purchasing Info
Ready to Order Play Mat Sets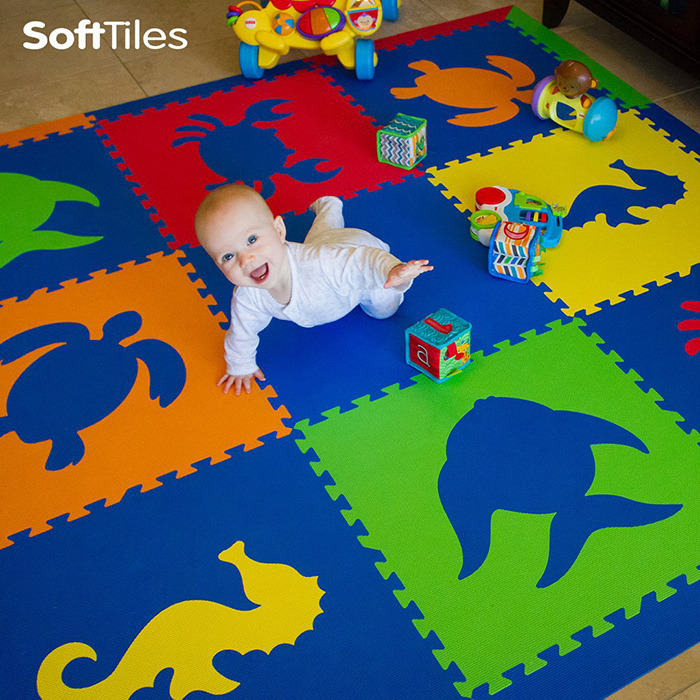 SoftTiles 9 Tile Play Mat Sets
Choose from our many pre-made sets in different colors and designs. Each Play Mat is 6.5' x 6.5'. Comes with our specially designed sloped borders. Makes a perfect gift!
---
Custom Designed Play Mats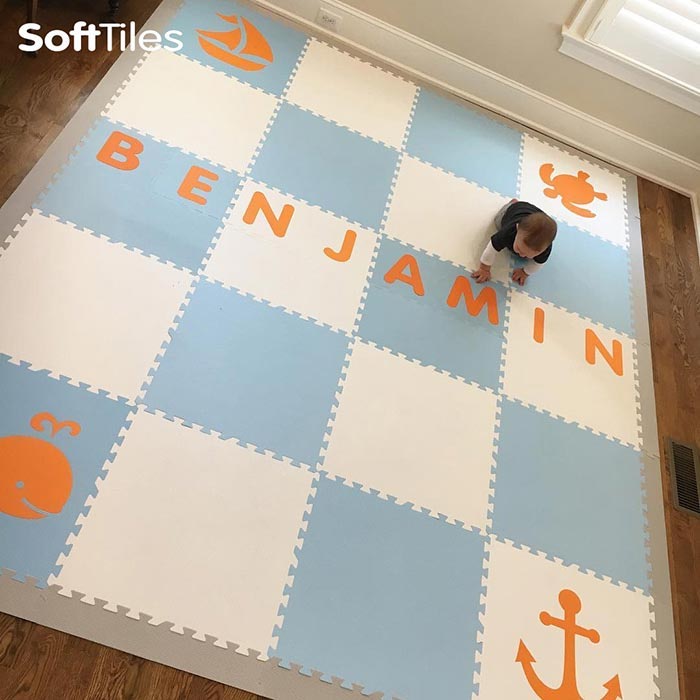 Design Your Own Custom Play Mat
Create beautiful custom play mats using any of our die-cut shapes. Easily personalize the mat with the name of your child. Use one of our templates and our Interactive Mat Builder or we can help design one for you.